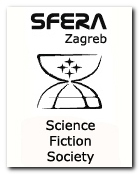 SFera is a Science Fiction Society from Zagreb, Croatia, which was founded in 1976. Every year SFera organizes SFeraKon, the longest-running and the biggest annual Science Fiction convention in Croatia and this part of Europe.
The first SFeraKon was held in 1979. In 1986 and 2012 Zagreb also held the Eurocon conventions (Ballcon and Kontakt). Usually more than 1000 attendees and visitors from all over Croatia (and neighbouring countries) roam the halls during the convention.
We had Guests of Honour such as Frederik Pohl, Sam J. Lundval, Harry Harrison, Joe Haldeman, Martin Easterbrook, Robert Silverberg, Guy Gavriel Kay, Walter Jon Wiliams, Lois McMaster Bujold, Ken McLeod, Michael Swanwick, Bruce Sterling, Richard K. Morgan, Iain McDonald, Charles Stross, Tim Powers and hope to see many, many more.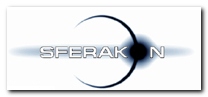 Apart from SFeraKon, SFera also organizes writing workshops, book clubs, lectures, literary competitions, publishes books, promotes Science Fiction, Fantasy and Horror …
Also each year we give the SFERA Award, the oldest national award for the Science Fiction genre in Croatia. In addition, each year we give awards for the best children's literary and art submissions to our children's competition.
Dobrodošli …

Dobrodošli na stranice
SFere
- zagrebačkog društva ljubitelja znanstvene fantastike i srodnih žanrova (
fantasy
, nadnaravni horor).
Ako još niste,
postanite naš član
i koristite se SFerinom knjižnicom, besplatno primajte
Parsek
ili iskoristite popust na kotizaciju za godišnju konvenciju SFeraKon.
Sve novosti pratite na našem
webu
ili putem našeg
Facebook
i
Twitter
računa ili se pretplatite na
newsletter
...
SFeraKon
SFeraKon je konvencija ljubitelja znanstvene fantastike koja se svake godine potkraj travnja ili početkom svibnja odvija u Zagrebu.
www.sferakon.org
Parsek
Parsek je PARadoksalno SEKularno glasilo Društva za znanstvenu fantastiku SFera. Izlazi kvartalno i još ponekad, a može se čitati u tiskanom i online izdanju.
parsek.sfera.hr